Plate heat exchanger in chemical industries and Life Science
From basic chemicals, in typically large production volumes, through specialty chemicals to end products in reducing quantities, thermal processes play an important role in most manufacturing operations. Pure components, or mixtures, are heated or cooled, partially or fully evaporated or condensed. As large as the number of chemical products is, the relevant thermal processes may differ greatly in detail. If plate heat exchangers are integrated into reactors, then heat of reaction can be added or removed directly. In Biotech, or specialty chemical production plants, smaller volumes have to be heated up or cooled down, often in batches, with jacket cooling or heating of the process vessels with recirculation.
The following examples show the experience of GESMEX in these areas:
---
Steam heaters and process plants
Steam heaters in process plants heat products or water with steam. The heated products can be liquid or gaseous, one or two-phases. They can be heated or also partially or completely evaporated.
XPS - Plate & Shell heat exchangers have relatively short but wide transfer surfaces, and are therefore particularly suitable as steam condensers. For an optimal distribution of the heating medium, the plate pack can be positioned eccentrically in the shell. For large numbers of plates, maldistribution can be avoided by several inlet and outlet connections on the shell.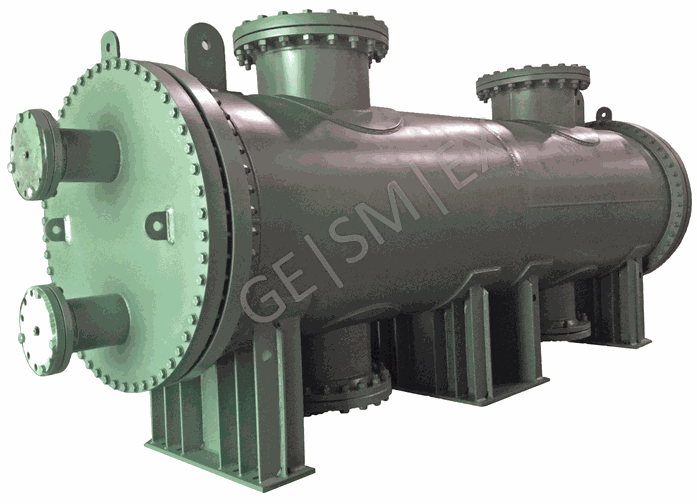 Example:
Steam heater in the production of fertilizers
Type:

Plate & Shell, XPS 200

Variant:

both sides openable

Features:

1000 m² transfer area, shell side two inlet and outlet connectors

Installation site:

Belgium
---
Circulation evaporators (Reboilers)
Circulation evaporators, also called reboilers, are used on distillation and stripping columns. For example in stripping processes, such as amine regeneration in Acid Gas Removal Units, and for the physical separation and purification of liquid products, crude oil fractionation. The liquid medium is fed counter-current to a vapor stream. At the bottom of the column a part of the liquid is vaporized again to increase the efficiency of the process, and thermally drive the separation.
XPS - Plate & Shell heat exchangers are used as circulation evaporators, predominantly in thermosiphon operation, i.e. they are installed next to the column and operated by natural circulation. Because of their high efficiency they require less heat transfer area compared to shell & tube heat exchangers. Thus the units are also lighter and smaller. Their response time is shorter due to the much lower liquid inventory, which lead to much shorter start-up times and faster control. This also give a much lower residence time, so thermal degration is greatly reduced. In addition to this, the required volumes of chemcials such as amines can be reduced saving operating costs.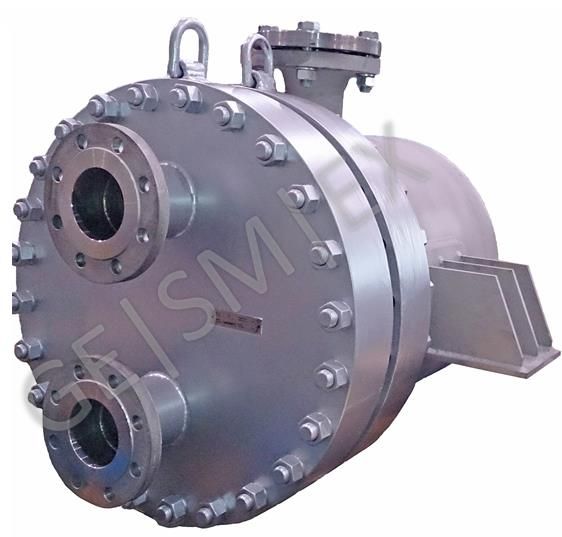 Example:
Reboiler in the petrochemical industry for the separation (stripping) of alcohol from water
Type:

Plate & Shell, XPS 100

Variant:

openable for inspection and cleaning of the product side

Installation site:

Netherlands
---
Flasch condensers
Flash condensers in process plants condense the waste steam or remaining steam resulting from the thermal treatment of products, such as when a product is flash cooled, or pressure is dropped, these are called exhaust vapors. Condensation is reuired to recover valuable product and energy, and also to comply with emission limits. In most cases the condensation is at atmospheric pressures or under vacuum.
XPS - Plate & Shell heat exchangers are highly efficient condensers. Different physical properties of the media to be condensed lead to a variety of possible heat exchanger configurations. Larger nozzles are required to accommodate the high volumentric flow rates for vapour under vacuum. Inert gases can be removed with an integrated separator, as part of an oversizeed nozzle.
Vacuum condensers in the propylene glycol production (basic chemicals)
Type:

Plate & Shell, XPS 200

Variant:

fully welded, excentric shell

Features:

cross-flow, multi-pass at plate side, with a collector for phase separation and liquid collection

Installation site:

Germany
---
Gas coolers / partial condensers
In processes with partial condensation only part of the vapour is condensed, changing the composition of the product, or drying the product. The condensation amount depends on the composition of the medium, and is controlled by the mass flow, pressure, temperature and the thermal duty.
XPS - Plate & Shell heat exchangers are effective condensers and partial condensers. The heat exchagers can be sized so that individual media are fully or only partially condensed. The cylindrical shell construction allows internal separation of thermally separated streams.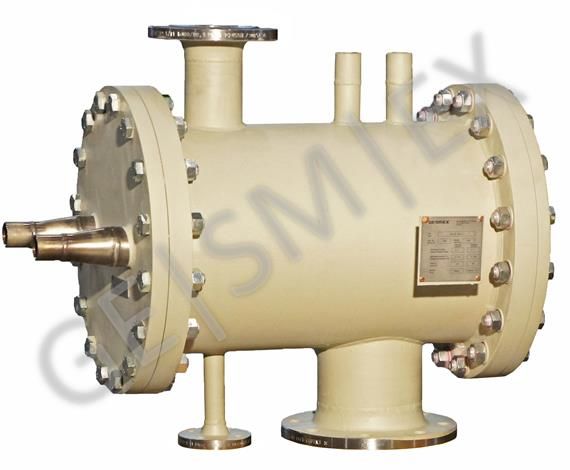 Hydrogen cooler and steam condenser in the chlor-alkali electrolysis
Type:

Plate & Shell, XPS 50

Variant:

openable on both sides

Features:

multi-pass on at shell side with separate nozzle for condensate return, cross-flow to the pressure loss minimization at vacuum operation


Installation site:

Germany
---
Liquid coolers
Liquid coolders in process plants cool products between or after processing stages. Water or heat transfer fluid are generally used as a utility.
XPS - Plate & Shell heat exchangers have high heat transfer rates which enable small designs. In addition to the small footprint, the units require much less material compared to other technologies such as shell & tube heat exchangers. This advantage is increased particularly when highly corrosion-resistant materials are required.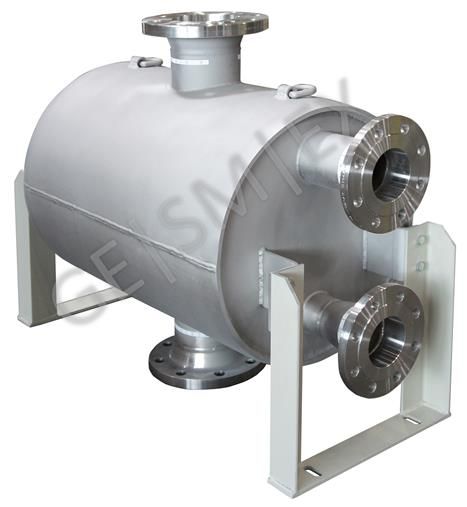 Example:
Product cooler, cooling medium: river wate
Type:

Plate & Shell, XPS 100

Variant:

fully welded, single pass at shell side

Features:

plate material 1.4539 (904L) for increased corrosion resistance to chloride-containing media

Installation site:

Germany
---
Evaporators
Evaporation in process plants is required, when a solvent needs to be removed from a solute, typically concentrating a product or recovering a solvent. A vaporizer is when the latent heat is required in a subsequent process, such as making clean steam for pharmacuetical applicaitons.
XPS - Plate & Shell heat exchanger can be flexibly adapted to the requirements of different operating conditions. For example the volume for steam evaporation can be enlarged by increasing the shell diameter, or by an eccentric arrangement of the plate pack in the shell. A multi-pass flow guidance is also possible for evaporation duties, when the heat exchanger is installed in an upright position so that the steam exit can be vertical.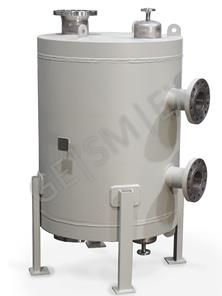 Example:
Evaporator in a production plant for solvents
Type:

Plate & Shell, XPS 200

Variant:

fully welded, multi pass

Features:

vertical orientation for partial evaporation at plate side and partial condensation at shell side

Installation site:

Finland
---
Preheater / Economiser
An effective way of preheating products is recovering heat from a process fluid that needs cooling. A good example of this is combining a cold reactor feed that needs to be heated, and the hot reactor product that needs to be cooled in one heat exchanger, to elminate utilities. Heat exchangers with such process tasks are also called economizers or feed / effluent - heat exchangers.
XPS - Plate & Shell heat exchangers are capable of close temperature approaches, and thus a high heat recovery becomes possible. This is achieved through a long thermal length with a multi-pass arrangement. If the volume flows on both sides are approximately the same, then the heat exchangers are configured with an equal number of passes on both sides. Crossing temperature programs are possible, i.e. to heat up the cold medium to a temperature above the outlet temperature on the hot side.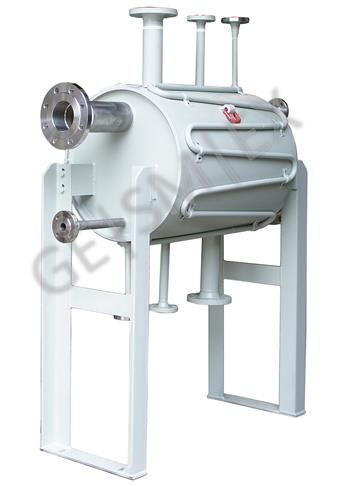 Example:
Economizer in a production plant for synthetic elastomers
Type:

Plate & Shell, XPS 100

Variant:

fully welded, multi-pass on both sides

Features:

with shell jacket heating to heat up and liquify the medium in the start-up operation

Installation site:

Germany
---
Gas heater
Gas heaters are usually operated with steam or liquid heating media such as thermal oil. Liquid heating media lead to highly asymmetric flow rates, i.e. the gas-side flow is multiple higher than the heating medium flow.
XPS - Plate & Shell heat exchangers can be configured with large nozzles on the shell side, coping with large volumetric gas flows. After determinating the required heat transfer area, the allowable pressure drop is the next determining factor. To optimize between heat exchanger size and pressure loss, plates with different corrugations and pressing depths are available.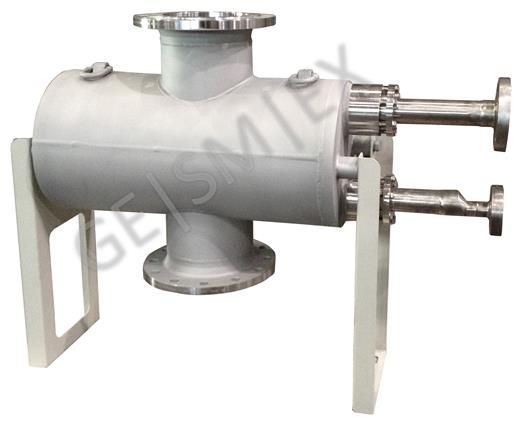 Example:
Heater of recycled gas in a plant for mineral oil desulphurization
Type:

Plate & Shell, XPS 50

Variant:

fully welded

Features:

heating steam plate side, plate material:titanium

Installation site:

Netherlands
---
Reactors
In process plants heat exchangers and reactors are usually separate unit operations. Depending on whether it is an endothermic or exothermic reaction, either pre-heating is or product cooling is required. In certain processes, a combination of heat exchanger and reactor in one unit is advantageous. This is realized by the arrangement of the heating or cooling surfaces in the reactor, whereby the heat transfer with the reaction can take place more directly.
With XPT - Thermoplate heat exchangers construction of reactors can be realized in a very flexible way. The Thermoplates can be individually manufactured in various shapes and sizes and the reactors can be built up modular. When positioning the plates and sizing the proces vessel, sufficient space is required to pack in catalysts which supports chemical reactions. Finally also the jacket of the process vessel can be equipped with heating or cooling surfaces in Pillow Plate - form.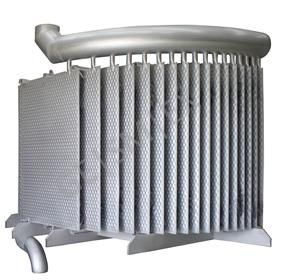 Example:
Bubble reactor in methyl benzene oxidation
Type:

Thermoplate, XPT

Features:

for direct installation in a process tank

Installation site:

China
---
Heat recovery in process plants
In process plants individual steps of production often requires the cooling of products. This "waste heat"can be put into the atmosphere via a cooling tower, or recovered and used elsewhere in the plant, where lower grade heat is required. Therefore saving both cooling and heating requirments.
XPS - Plate & Shell heat exchangers transfer heat from liquid or gaseous products to other products, or into auxiliary systems. The efficient countercurrent flow of the XPS means that more energy can be better recovered than with other technologies. If the energy level high enough, valuble low-pressure steam can be generated from the waste heat.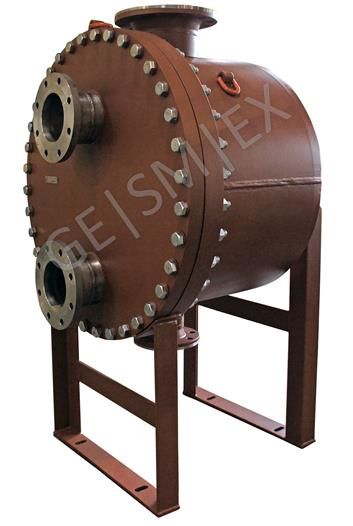 Example:
Steam generator from waste heat in a sulfuric acid plant
Type:

Plate & Shell, XPS 150

Variant:

openable shell

Features:

plate material 1.4591 (Nicrofer 3033) to ensure the corrosion resistance to hot sulfuric acid

Installation site:

Sweden
---
Heat exchangers in utility systems and for heat recovery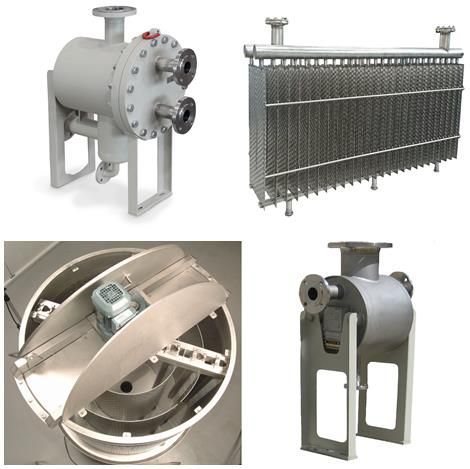 In addition to process-specific tasks, GESMEX plate heat exchangers are also used in numerous auxiliary and utility systems, such as: heating of cleaning solutions, cooling lubricant oil, drying copmressed air, jacket cooling, ...
GESMEX plate heat exchangers are used for heat recovery from exhausst vapors or flash steam, in sewage systems, for heat recovery or power generation from waste gases ...