Plate heat exchanger in heat recovery & ORC-Plants
In almost all systems, every attempt is made to ensure against energy losses and the system efficiency can be optimized. A major contributor to this is the recovery of heat from waste water, waste steam, exhaust gases or waste heat from production processes. If the energy is of a high enough level, the waste heat can be used to generate electricity in Organic Rankine Systems (ORC) systems. GESMEX plate heat exchangers work in heat recovery systems as recuperators, heaters, evaporators and condensers in ORC systems.
---
Power generation in ORC-systems
Biodiesel is made from vegetable oils, such as soybean, sunflower or palm oil or from animal fats, by a chemical reaction with methanol. Heat exchangers are used in various process stages for pre-heating, glycerine heater and cooler, and in the methanol distillation, as economizers.
All welded construction of the XPS - Plate & Shell heat exchangers is recommended for high temperatures or pressures, or if chemical attack of ingredients excludes the use of plate and frame heat exchangers with gaskets. XPS units are currently operating as methanol - condenseors or feed / effluent heat exchanger.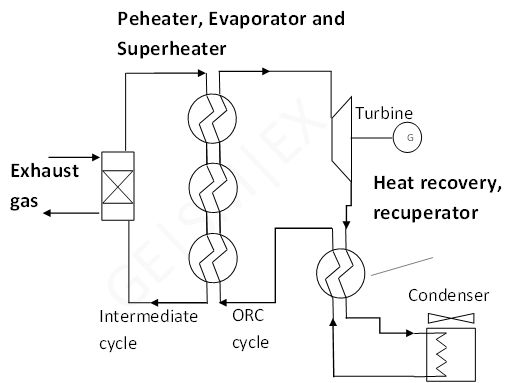 The evaporator transfers heat from the waste heat source to the working medium in the ORC cycle. Waste heat sources, for example, are hot exhaust gases, with temperatures of up to 300°C. They can be used directly with Plate & Shell heat exchanger. If the temperatures are too high, or if water is condensed due to the cooling of the exhaust gas, acids can form and can cause severe corrosion. In such cases an indirect heat transfer is preferred.
If a liquid medium is used for cooling the condenser, the XPS Plate and Shell is very well suited. For air cooling usually air condensers which are built from ribbed plates or tubes.
---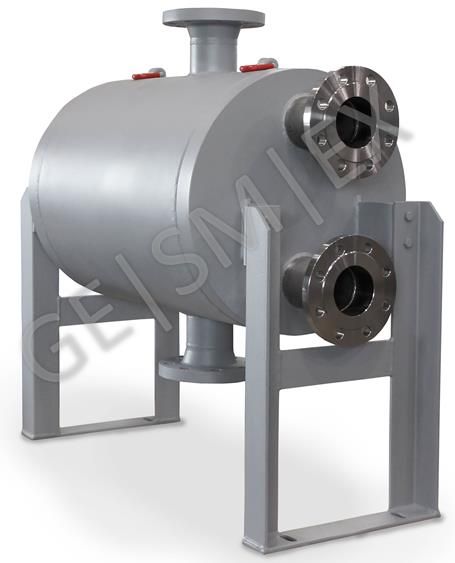 Example:
Direct expansion of an organic fluid in a ORC plant for decentralized power generation
Type:

Plate & Shell, XPS 100

Variant:

fully welded

Features:

the compact design enables minimization of the filling volume in the ORC - circuit and a fast response time

Installation site:

Finland
---
Heat recovery from exhaust gases
Exhaust or exhaust air heat exchangers withdraw energy from the exhaust stream, which can be used for preheating or heating in other processes.
XPT - Thermo Plate heat exchangers transfer the heat from the exhaust stream to running up air (Type: XPT - gas / gas) or to a liquid circuit (Type: XPT - Process Therm). The heat exchangers can be integrated directly into the exhaust stream, can be adapted to the dimensions, also the number and arrangement of heat transfer surfaces can readily be fit to existing plants.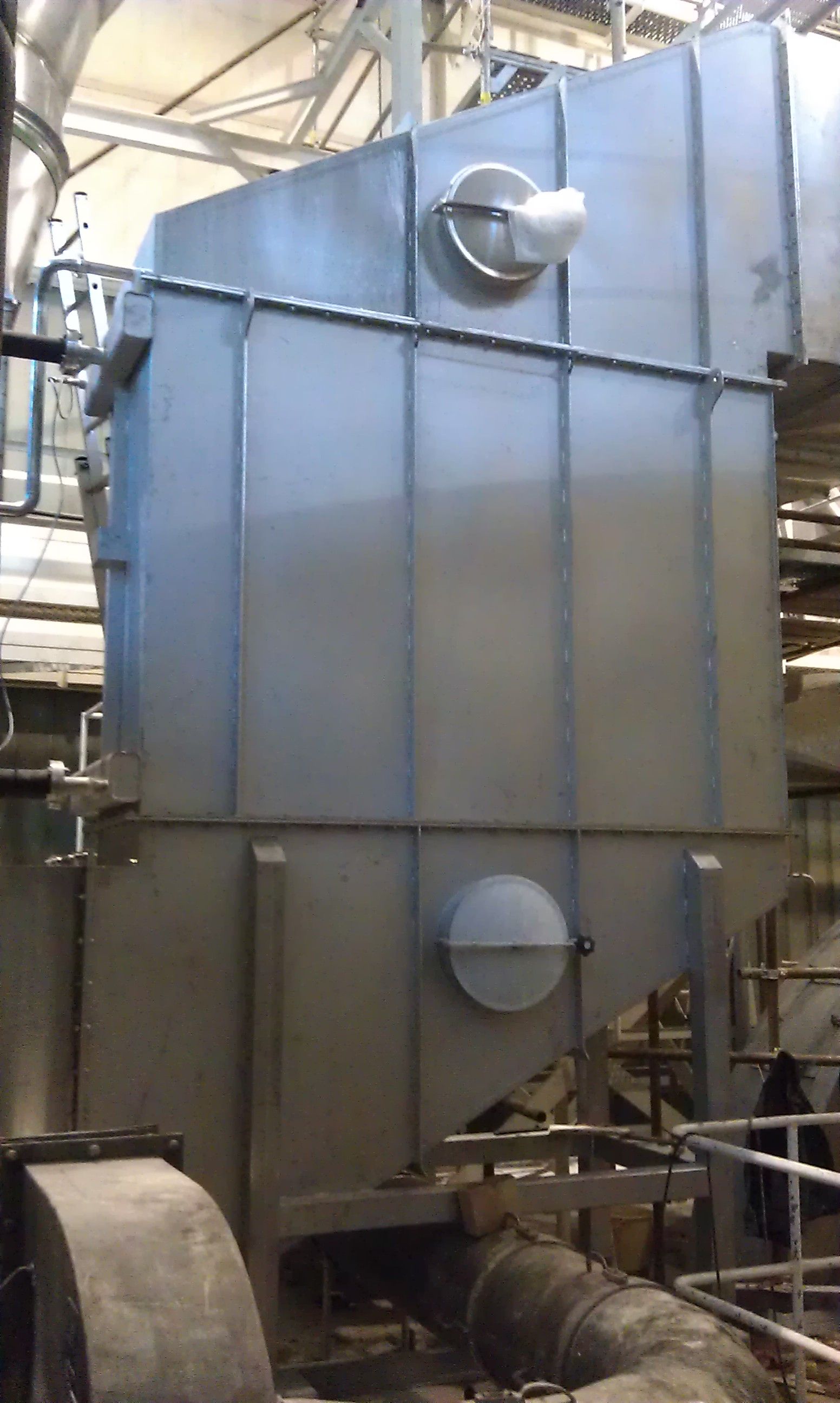 Exhaust air heat exchanger
Type:

XPT- Process Therm

Features:

Coolant: water, cleaning during operational production is possible

Installation site:

Germany
---
Heat recovery from waste water
Wastewater heat exchangers transfer heat from hot wastewater to heat cold freshwater. This reduces the energy required to preheat the incoming water. For the function of biological sewage treatment plants, the wastewater temperature can be limited and regulatory compliance can be ensured to the maximum initiation temperatures. XPT - Thermo Plate heat exchangers can be manufactured with ring-shaped heat transfer surfaces. A rotating brush system keeps the transfer surfaces free of biological deposits. The units are accessible from above and sedimentary deposits can be removed through openings in the bottom.
Example:
Waste water heat exchanger
Type:

Thermoplate XPT-Therm-X

Variant:

with rotating brushes system

Features:

accessible from above and via manholes for manual cleaning of rough sedimentations

Installation site:

Germany
---
Heat recovery from flash steam
Flash steam condensers condense exhaust vapour arising in steam systems, when condensate is led to atmospheric condensate return tanks, steam is flashed off from the hot condensate. The latent heat from the exhaust vapors are condensed and the heat recovered for other users, e.g. preheating of fresh water for feedwater deaerators.
XPS - Plate & Shell heat exchangers are effective condensers even at low steam pressures (under vacuum). Corresponding to the low vapor density and the resulting high flow velocities of steam the steam inlet nozzle sizes can be big and the condensate outlet nozzles can be made small.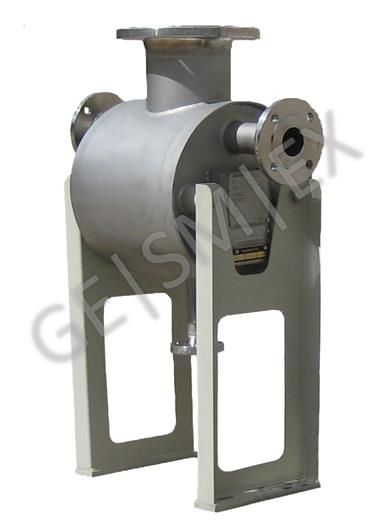 Example:
Flash steam condensator for pre-heating of feedwater
Type:

Plate & Shell, XPS 50

Variant:

fully welded

Features:

Two passes at plate side

Installation site:

Germany
---
Heat recovery from process heat
In production plants, individual production stages often require the cooling of products. The heat extracted from products can be fed to other consumers for an optimal energy utilization of the production plant.
XPS - Plate & Shell heat exchanger can transfer the heat from the liquid or gaseous products to other products or into auxiliary systems. If the energy is of a high enough quality, valuble low-pressure steam can be generated with the waste heat. When several production trains are in parallel, the coolers can be grouped into modules.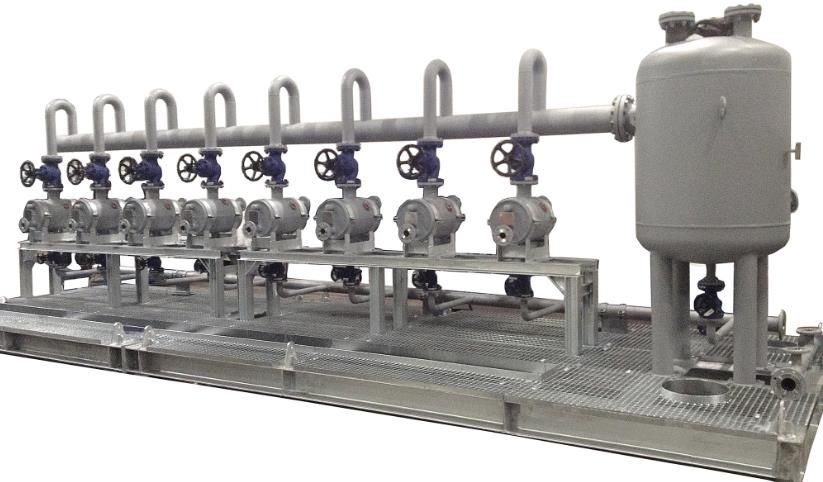 Example:
Product coolers and low-pressure steam generation
Type:

Plate & Shell, XPS 50

Variant:

8 heat exchangers in parallel

Features:

Heat exchangers integrated in a module with a vessel for vapor collection

Installation site:

Germany