Thermoplate Heat Exchangers – Type XPT
Thermoplate or Pillow Plate heat exchangers are characterized by their flexibility and adaptability, both to the process conditions as well as to the shapes and sizes of containers, housings or larger flow channels. The design limits range from vacuum to 60 bar and from -200 to 800 ° C.
length and width freely selectable within the maximum dimensions 2 x 12 m

flat and rounded plates in rectangular or other contours

direct mounting or installation in process vessels is possible

barrier-free flow channels, plate spacings can be chosen freely
low pressure losses even with large volume flows

low maintenance and high reliability through gasket-free design

good cleaning possibilities for applications with high hygiene standards or heavy fouling

good corrosion resistance by a wide range of metallic materials
XPT - Plate
Single plates are the basic form of Thermo Plate - heat exchangers and consist of two equal sheets from 0.8 to 2.0 mm thickness, or of a thin and a thicker plate with minimum 3.0 mm thickness. The metal sheets are spot-welded on the surface and welded at the edges. The plates are expanded hydraulically to the desired height of the inner flow channel. If required flow barriers can be welded in to guide the flow.
see also: Function of Thermoplate heat exchangers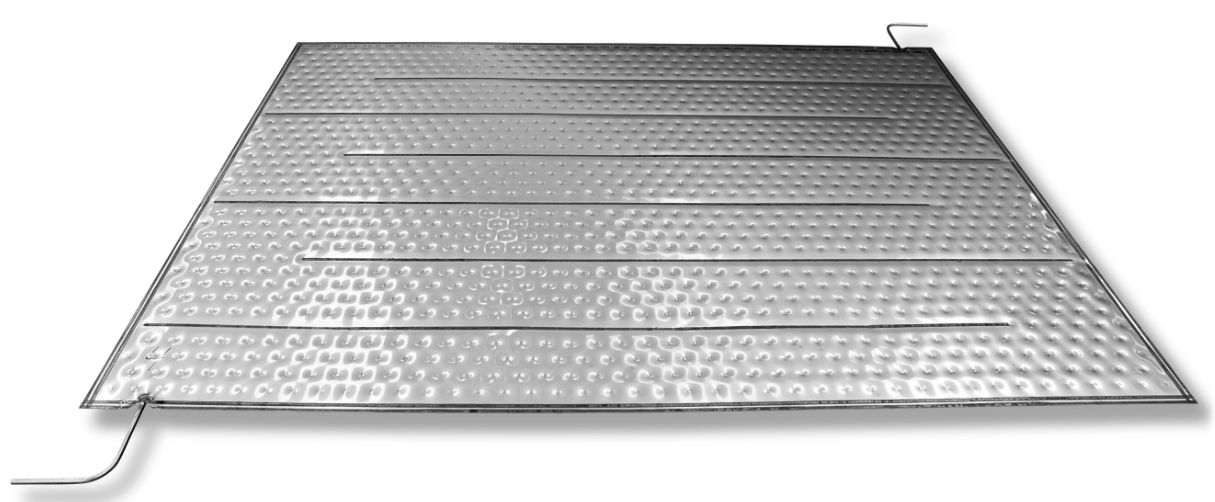 XPT - Process Therm
The Process Therm system is a recuperator (heat recovery system) that allows the re-use of exhaust air, thus reducing energy consumption. The Process Therm unit is installed in the exhaust air duct. With a fully integrated CIP system, it is also capable of handling dust-laden air. The energy recovered is fed to a preheater, e.g. to preheat incoming air. Its compact design, with 150 to 200 m2 per cubic meter of apparatus volume, allows the Process Therm to be integrated in practically any existing plant.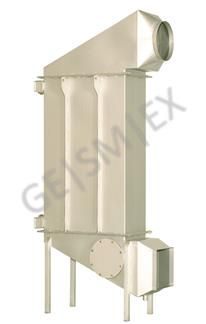 Product benefits:
Zero maintenance in dust-laden air

Can be cleaned while running

Available with integrated CIP system

Can be used for vacuums up to 100 mbar

Heat recovery at constant condensation rate

Allows use of high-alloy materials
XPT - Therm-X
The Therm-X is a self-cleaning heat exchanger developed for heat recovery, cooling and warming fibrous or contaminated process fluids. It consists of centrically arranged Thermoplates, which are constantly cleaned by integrated brushes. This keeps contamination to a minimum and optimizes the heat transfer process. The brushes prevent particles from being deposited on the Thermoplates, thereby extending the operating life of the system.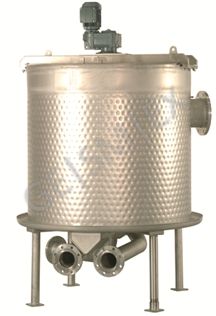 Product benefits:
Self-cleaning apparatus with adjustable-speed motor

High efficiency thanks to the brush motion, which causes turbulence

Easy to inspect

Available in various grades of steel

Highly variable in terms of tank size and number of annular heating elements
XPT - TP-HEX
The TP HEX can be made of any kind of cold-formed materials. Its greatest advantage is its elongated form with the resulting longitudinal flow on both sides, which has a highly positive effect on the thermal efficiency. The narrow channels of the TP HEX give the apparatus a small diameter, which in conjunction with the special shape of the Thermoplates, creates the desired turbulence. The heat transfer in the TP HEX is better than in conventional tube bundle heat exchangers, in which part of the permitted pressure drop is lost in reversing the flow direction. Another advantage is the small amount of space between the plates, which results in a compact design with a large heatexchange surface within a limited construction volume. This is especially advantageous for existing plants with limited space.
Product benefits:
Low-maintenance thanks to self-cleaning surfaces and gasket-free design

Up to 3 times smaller than tube bundle heat exchangers

Efficient heat transfer due to large contact surfaces

Low fouling tendency due to optimum turbulence

CIP system available on request

Also available in a fixed configuration

Higher pressure resistance than heat exchangers with gaskets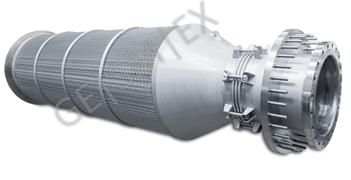 XPT - COND
XPT condensers are designed and produced in a wide range of individually adapted designs, have proven themselves over the course of many years of service, and are constantly being optimized. They are suitable for wide range of processes and known for their robustness. We supply condensers made of stainless steel and other highalloy materials. The condensers are primarily used as head condensers in distillation plants and exhaust condensers in incineration plants.
Product benefits:
Sturdy, robust design

Easy to clean

High efficiency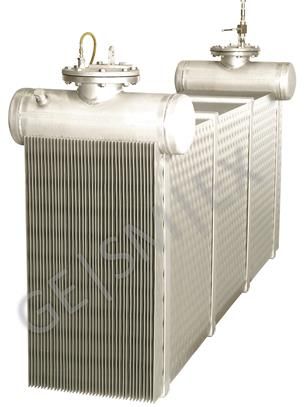 XPT - Reactors
XPT - reactors combine the functions of heat transfer and reaction of the product in one apparatus. Through integrated heating or cooling surfaces heat can be charged or discharged during the reaction. The distances between the transfer surfaces are sized to optimize the filling volume needed for the reaction. Installations between the plates can be foreseen to support the reaction. In reactors with agitators Thermoplates be arranged as flow-forming elements to optimize the flow in the vessel. Also on the shell of a vessel or wall of a tank pillow plates can be added for heating or cooling duties.
Product benefits:
Heat transfer and reaction in an apparatus

modular construction

can be manufactured in different sizes and shapes

with internals to support the reaction

can be combined with fixed CIP system