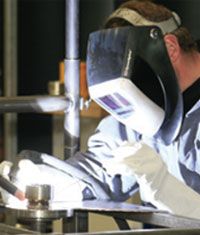 Manufacturing
The quality of welds is one of the most important differentiating factors of fully welded heat exchangers. By using laser welding technology, the heat quantity input is minimized and unnecessary changes in the material structure can be avoided.
The result is a much higher weld strength compared to conventional fusion welding processes.
In intensive development work, GESMEX has succeeded in optimizing state-of-the-art laser welding machines for the welding of plate packages. The Shell & Plate concept was also re-engineered in parallel to this. In day-to-day production, we weld with the highest accuracy and have the most effective instrument available to prevent leakages.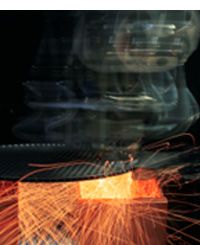 GESMEX is certified as a manufacturer according to the European Pressure Vessel Directive PED 97/23/EG with application of AD-2000, Merkblatt HP0 or DIN EN ISO 3834-2.
Our products are series certified according to the Russian code TR CU 032/2013. We supply heat exchangers according to ASME or Chinese regulations.
The competence of GESMEX as a manufacturer of heat exchangers has been confirmed in numerous audits by major customers in the process industry.