GESMEX supplies modules where GESMEX plate heat exchangers are the main components. This allows accurate workshop manufacturing, shortens installation time and reduces expensive installation work on site. Modules for process plants are individually designed and manufactured for each project.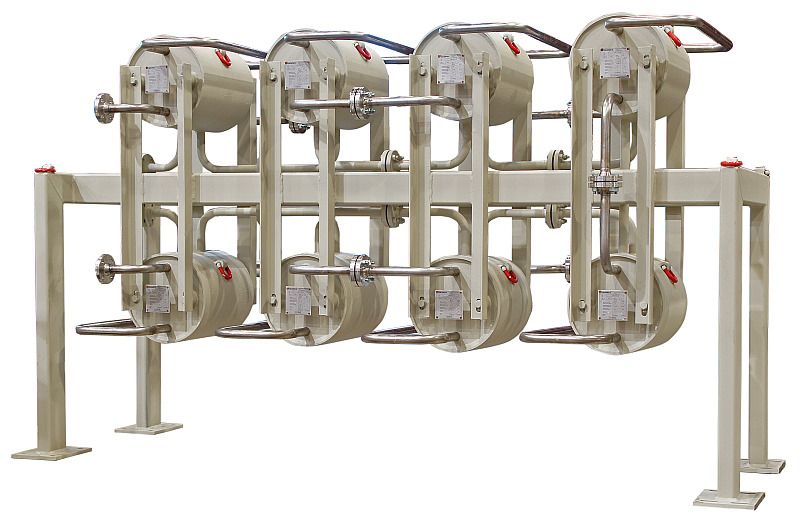 Manifolding of several units in series or parallel
Spreading the thermal duty over several units optimises the thermodynamic characteristics and provides a flexible solution for large changes in duty.
Graphics: series of eight Plate & Shell heat exchangers type XPS 50

Heat transfer stations
A fully assembled skid ready for connection, including instrumentation and control devices.
The systems are pre-designed, and fabricated with standard kits to reduce the engineering work and reduced delivery times.
Graphics: steam-heated packaged heat exchanger system, with Plate & Shell heat exchanger XPS 50, steam-side controlled, with pump trap for condensate return

see also:"district heating" in applications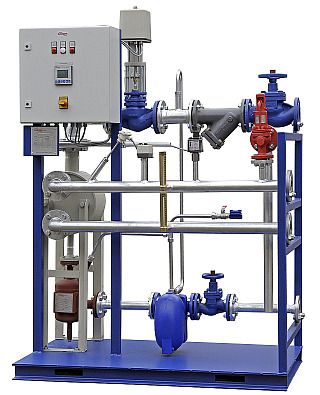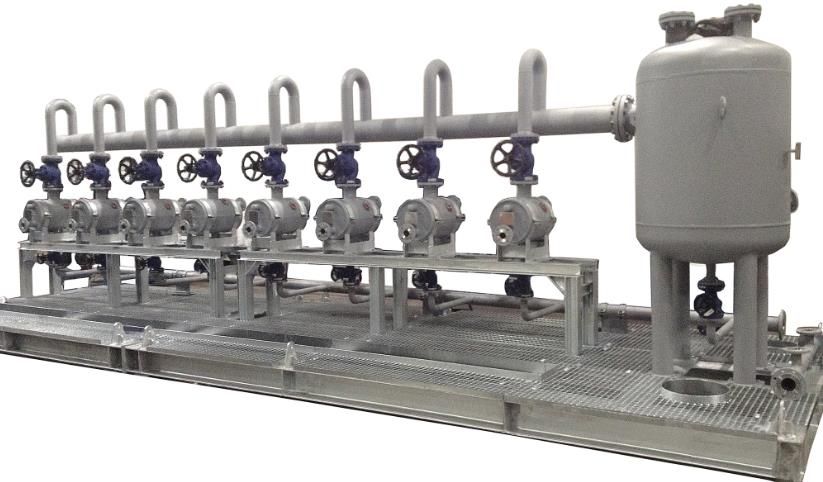 Pre-fabricated modules
combining different heat exchangers of paralell production trains in one module.
The systems are individually sized, designed and manufactured according to the process requirements.
Graphics: eight steam generators type XPS 50 in parallel, integrated into a module with a common vessel for steam collection

see also:"heat recovery" in applications
Plant sections
Modular construction of larger functional units to a plant section, including structual steelwork, instrumentation, control and safety devices.
The modular design allows full pre-assembly in the workshop, dis-assembly and separate transportation of the modules to the construction site.
Graphics: Sub-plant for gas pre-heating with a GESMEX Plate & Shell steam heater on the top level, condensate collector on the middle, and valve station on the lower level. In this project GESMEX has delivered the plant engineering, all thermal vessels including piping and the steel construction, including engineering.

see also:"gas production" in applications